FRANK AND GAIL are in the running for our Longest Returning Guests Award. They have been coming to holiday on Blue Marlin by themselves, with friends, and with family for the past 20 years.

I met this endearing, witty, and sweet couple at coffee before breakfast on my first morning as part of the team here at Blue Marlin. Gail and Frank are probably the cutest couple around and are an inspiration.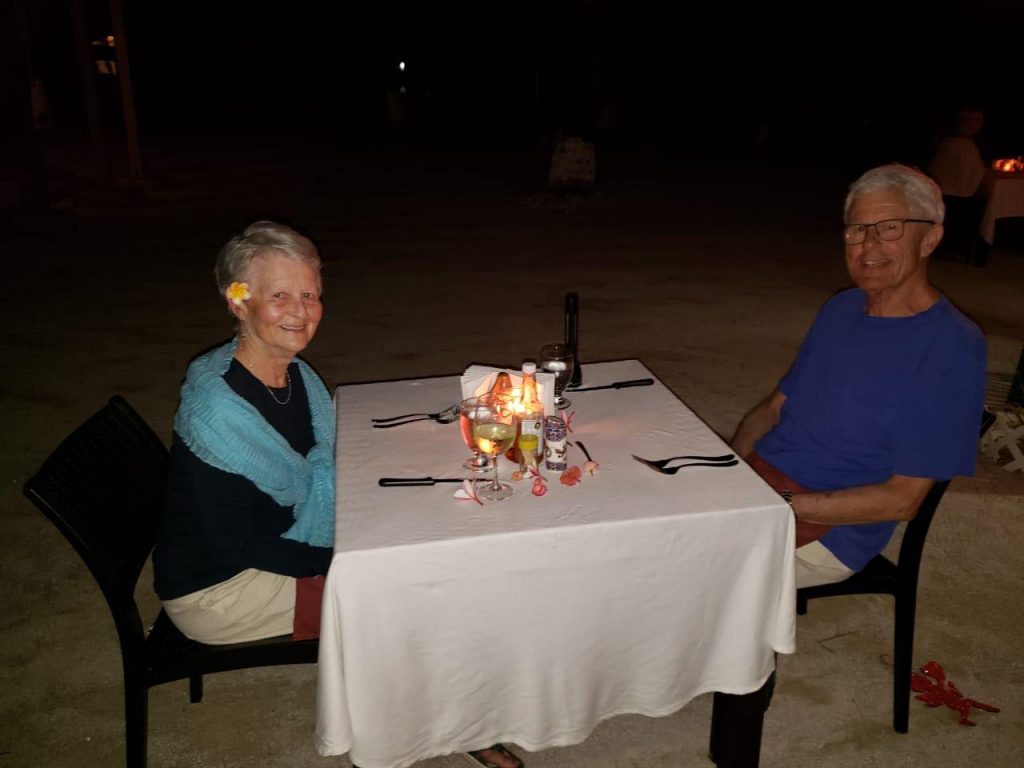 Frank is a US military veteran and a retired doctor. Gail is an amateur naturalist and professional editor and art historian (sorry for any grammatical errors in this blog, Gail) and mother of three. Gail is petite with pink cheeks, a friendly smile, a genuine kindness, and a sharp wit. Frank is adamant about unplugging and spending quality time in a technology-free zone. Frank is tall and lean with wirey glasses and windswept gray hair.
The staff had already advised me that these were very special guests that come back every year. When I first met them, Gail was donning her gray Blue Marlin logoed shirt– she calls it her "breakfast shirt". They appeared to be at home here on our little island paradise and I caught Frank sipping on his steaming cup as he surveyed the open sea from out vantage point at the over-the-water dining area. He was waiting for Gail to return from her morning "Dock Patrol", where she scouts out the critters in the clear shallow waters by the dock.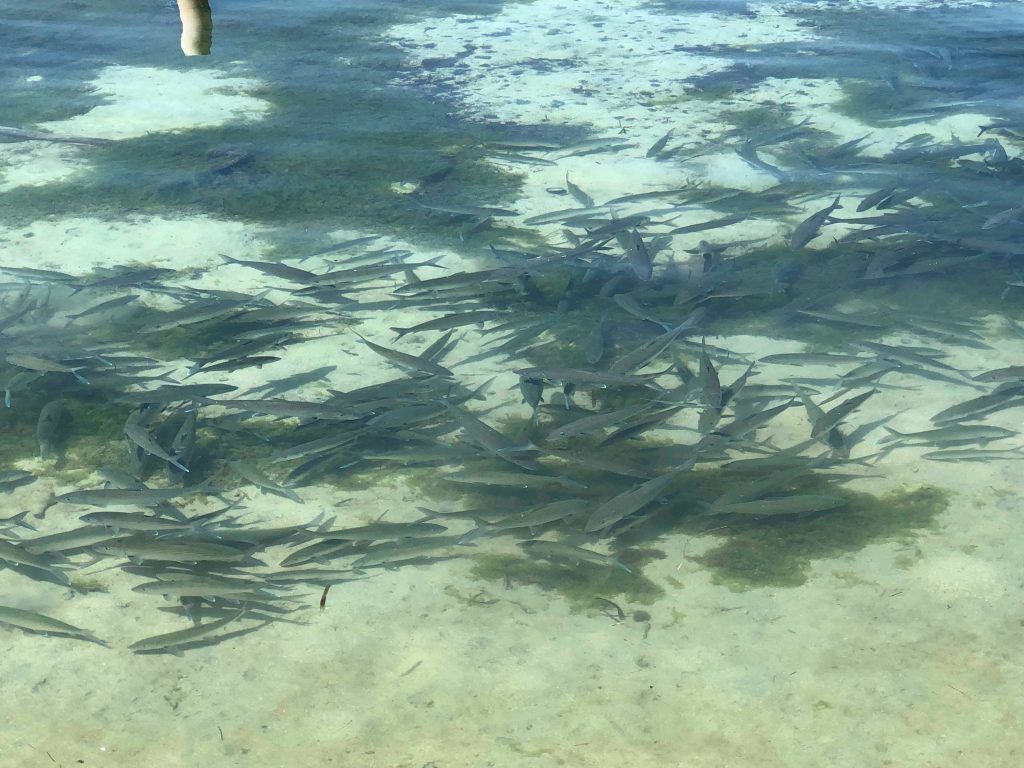 I approached Frank and asked him if he wouldn't mind sharing some of their experiences here over the years. At first he gave me a sort of skeptical look and told me he would have to wait for Gail to come to breakfast and clear it through her.
Despite having the sweetest smile and being a good two feet shorter then Frank, Gail is clearly the Boss in this relationship. And Frank is clearly a gentleman who comes from a tradition of respect and honor because he won't sit down at the table without his wife.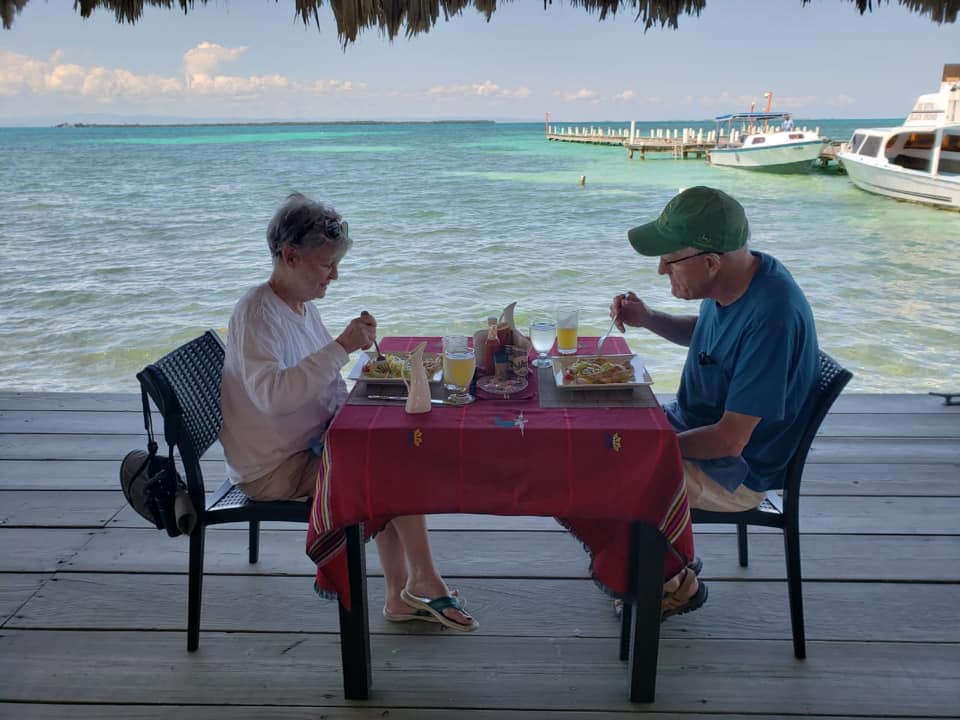 I humbly approached Gail to introduce myself. She gave me a quick glance over as if to say "you're new here" and then smiled and we began to chat. It turns out Frank did his medical residency at my Alma Mater and Gail had given birth to their now grown children at the same hospital as my College 50+ years ago in tiny New Hampshire. So that cleared the air and they started warming up to this newbie.
It becomes rapidly obvious that Frank and Gail know exactly what is going on here at Blue Marlin, starting from dock patrol to the latest in staff gossip. Gail even caught a diner from a day trip catamaran trying to pocket the salt and pepper shakers off of his lunch table and she immediately exposed this drunken sailor's unsavory deeds. In no time, the items were returned to the table and this petite agreeable lady had brought a grown man to his knees in apology with just one look. I didn't know whether to applaud or to laugh or both.
In any case, the jist of this tale is that Frank and Gail clearly love this place, its people, and what it offers. Frank tells me that island life is almost like a mini series and the thing he loves most about Blue Marlin is the personalized service, the family hospitality, and the fact that the staff go out of their way to make things right. He was amazed by how Mireya, our head dining room server, folds their napkins for every meal and how they are always in the shape of different objects or animals. It's these small details that make a big difference.
Frank was impressed that a couple years back when Captain Bo took one of the guests all the way to Belize City to the private hospital to check on an earache which Frank had deemed in his medical opinion as "no big deal." Frank, who carries a serious demeanor, isn't easily impressed. But obviously, Blue Marlin has left an impression on both Frank and Gail. As they have left an impression on the team here at Blue Marlin. They are truly appreciated, as are all of our guests, by the staff and crew.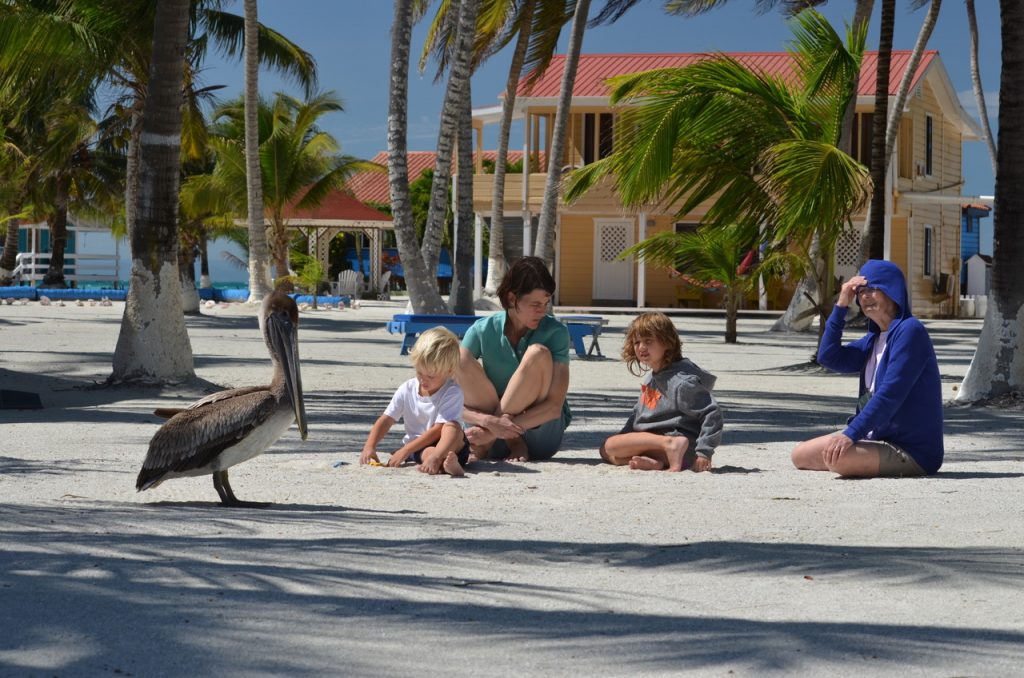 On their last morning here at the end of their three-week stay, Gail barely touched her fruit bowl and let her coffee go cold. She stared at the turquoise blue sea and seemed deeply saddened to be leaving her home-away-from-home for her real home in the States. The barracuda that always hovers in the shallows by the dock even seemed a little sad. Gail's love of nature and the sea is evident in her religious daily snorkels and her purveying of the docks every morning and evening.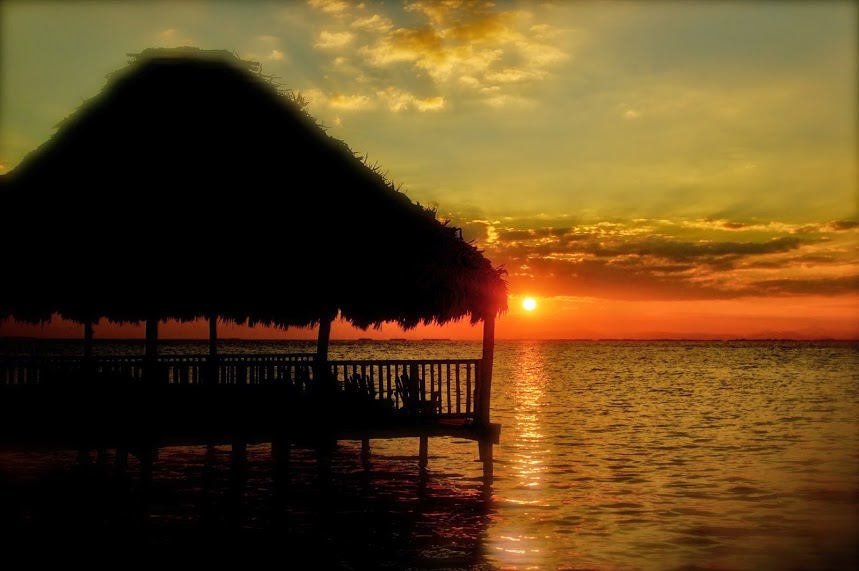 And there is no place closer to nature's never-ending glory than right there at Blue Marlin Beach Resort, Atop the Living Barrier Reef, Belize, Central America. As their boat pulled away to bring them back to town for their island hopper flight, we didn't say "Goodbye" to Mr. Frank and Ms. Gail. We said "Until next time!"