Charlie's Dining, overlooking the clear Caribbean turquoise waters as far as the eye can see, offers fine dining with true island ambiance.We offer outdoor dining at our over-the-water deck, al fresco dining on the beach, or indoor dining in our dining lounge.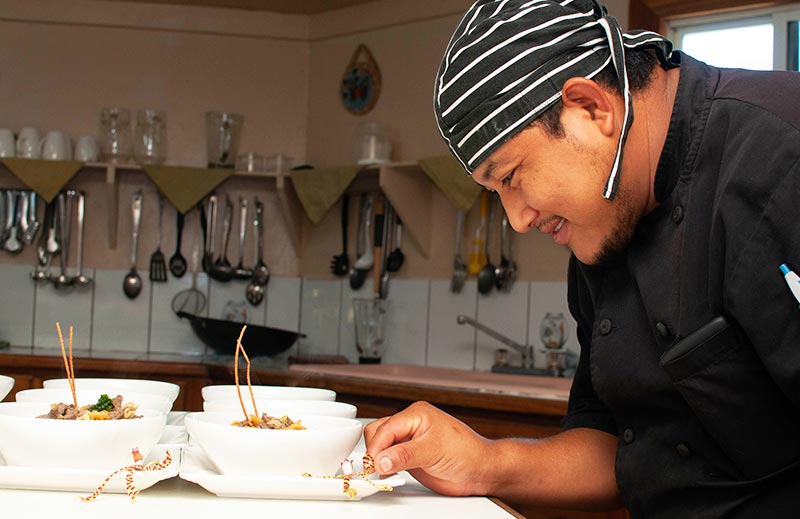 Local, fresh, and creative
Home-style cooking is our specialty featuring a delightful blend of Belizean, Latin, Caribbean, and American cuisine. Utilizing the best local ingredients and spices. All meals are freshly prepared and served from the farm and sea to the table. Don't be afraid to ask for seconds. Our all-inclusive packages include all your fresh, healthy meals and daily snacks.
Delicious steaks, seafood, fresh tropical fruits, organic veggies, salads, coconut rice, fish, shrimp, conch and lobster, pastas, Belizean style BBQ and Sunday dinner, homemade breads and desserts, will grace your table.  Fruit juice and water is included with all meals.
Special diet or allergies? No problem
Special attention is always given to individual dietary needs or restrictions and we cater to vegan, vegetarian, and restricted diets. We want the best for our guests and every meal is prepared from scratch with love and with attention to detail.
No Shoes – No Problem! Charlie's Bar is the fun meeting spot for our guests to exchange experiences on their adventure of the day over afternoon snacks and a chilled tropical cocktail or cold Belikin Beer. Offering a variety of local cocktails, beers made in Belize, imported wine, rum, and liquors, as well as non-alcoholic juices, smoothies and sodas, we aim to satisfy all our guests' needs.
Perched over the water, you can simply walk directly unto the outer deck to capture stunning sunsets, and on a clear day, the amazing silhouette of Victoria Peak.
Charlie's Bar is also the hotspot for WIFI connection so you can check your e-mails while chillin' on your cold Beliken.
And, if you prefer to capture the east side view from your private verandah in the cool of the evening, our Bartender will provide room service, or a stocked mini-bar is available upon request.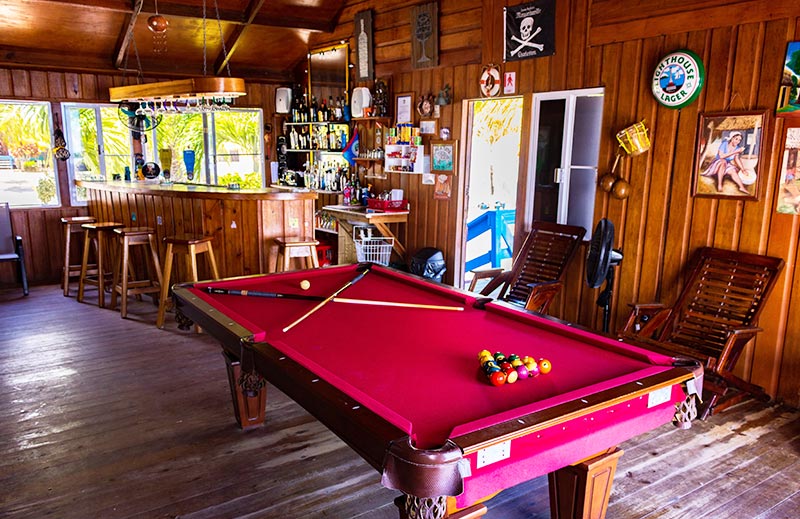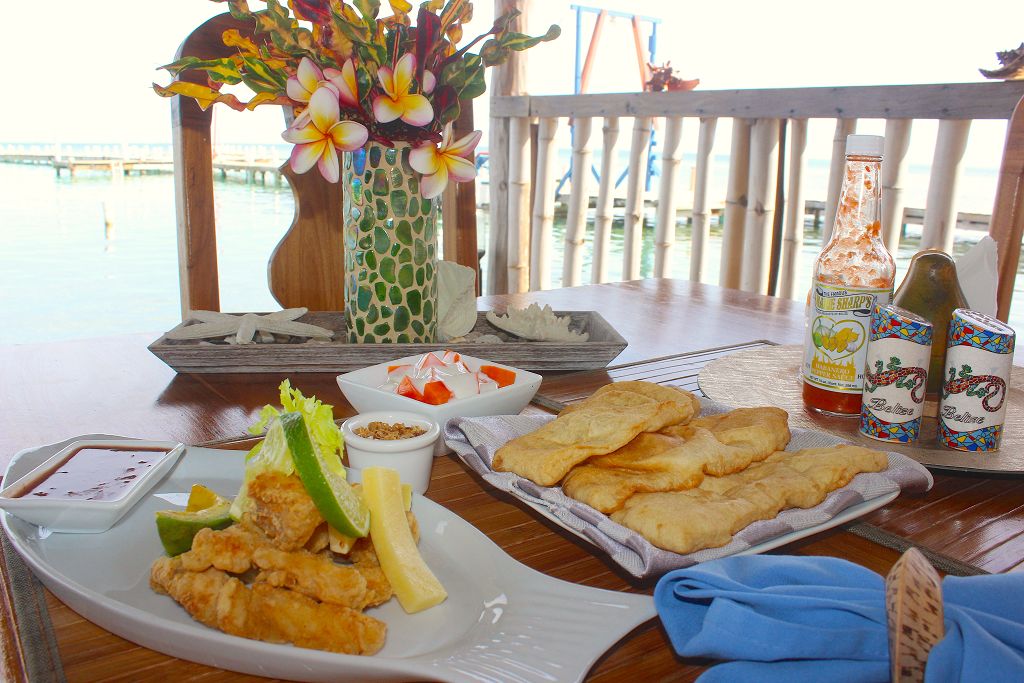 Cooked-to-order Breakfast is available from 7AM to 9AM. You may choose to have eggs, homemade fried beans, bacon, ham, or, sausages, hash browns, and fresh bread (flour or corn tortillas, johnny cake, fry jacks, pancakes, waffles, toasts). Seasonal fruits are standard fare along with freshly squeezed orange juice, coffee, tea and milk. A variety of cereals and oatmeal products are also available upon request.
A Coffee & Tea Station is available complimentary throughout the day starting at 6:00 AM.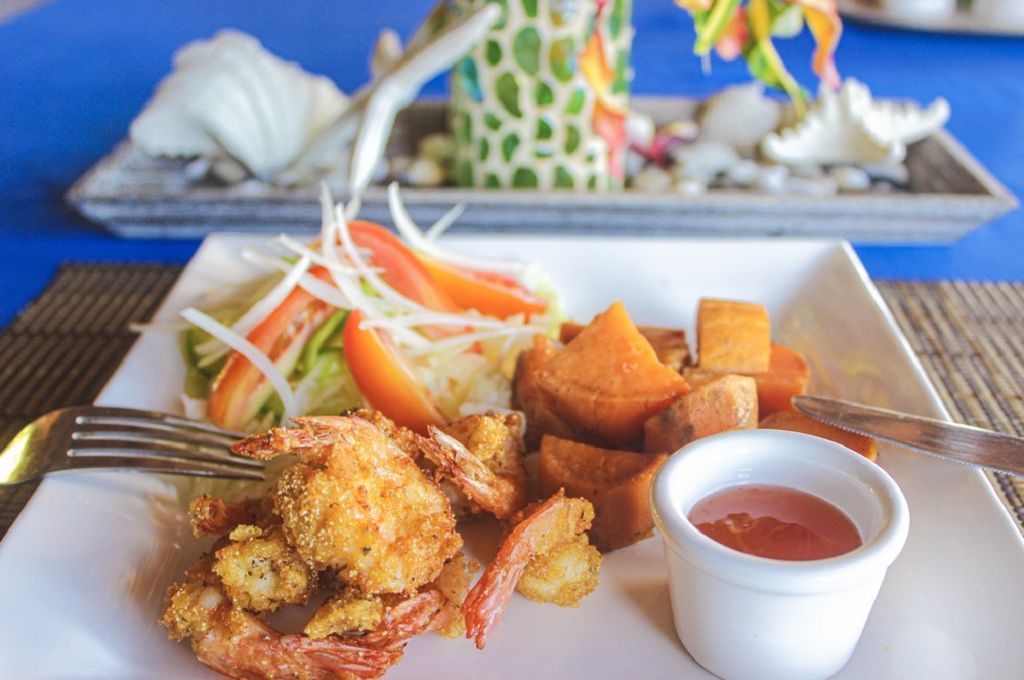 Lunch is available from 12:00 PM to 2:00 PM and will feature one dish from our menu. This is typically a salad or pasta dish, or a Belizean specialty dish, including a variety of seafood, poultry or meat options. Lunch snacks include cookies or fruits.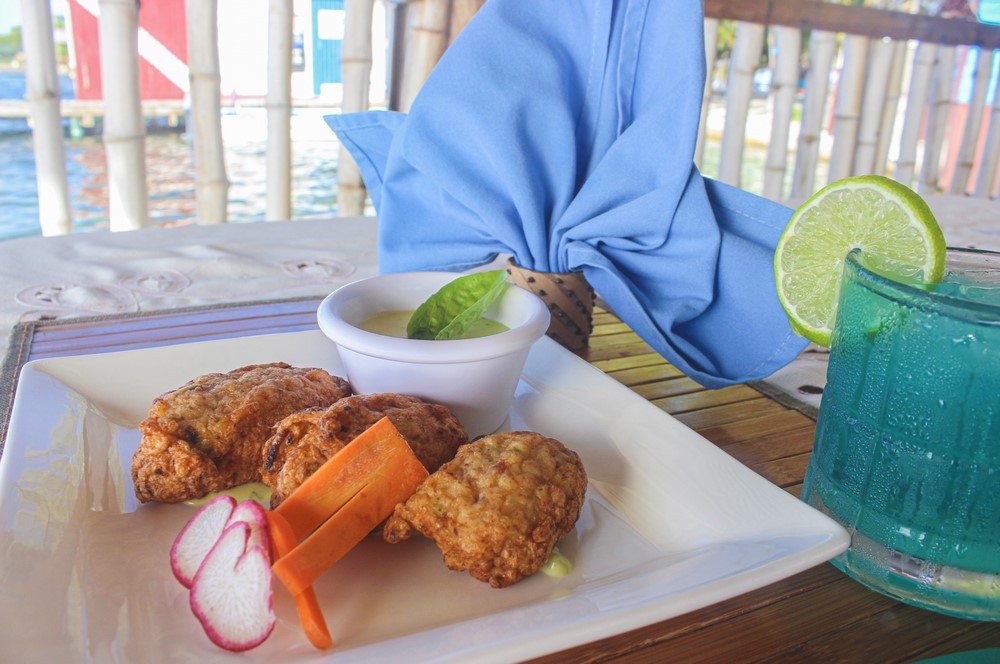 Evening snacks are also prepared from scratch served at 4:00 PM, just in time for your sunset cocktail hour. Chef's choice may be fish panades, beans & cheese garnaches, guacamole, pico de gallo, conch fritters, shrimp ceviche and other Belizean favorites.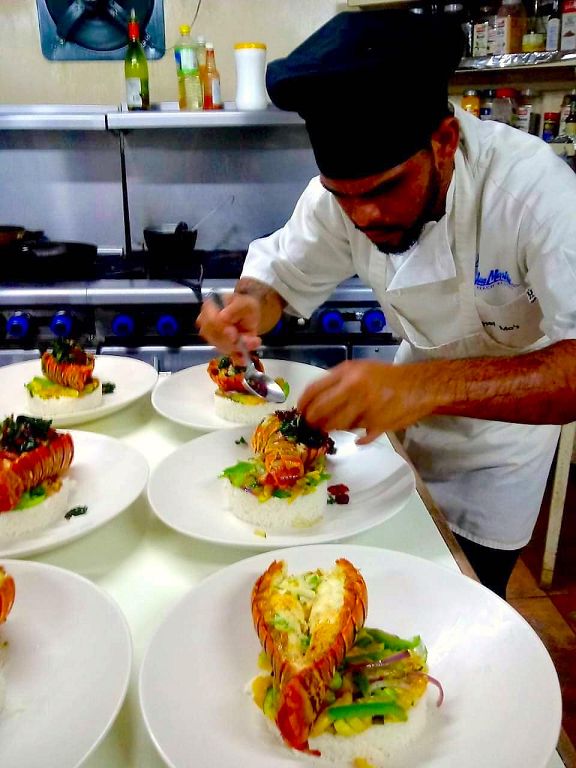 Dinner is normally served at 7:00 PM but you may request anytime between 6:00 PM to 8:00 PM. Dinner is a 3-course meal and will feature one dish from our menu including freshly baked dinner rolls, soup of the day or garden salad, main entrée featuring fish fillet or whole fish, shrimp, conch or lobster when in season, chicken, steaks or pork, Chef's dessert is cake, pie or ice cream.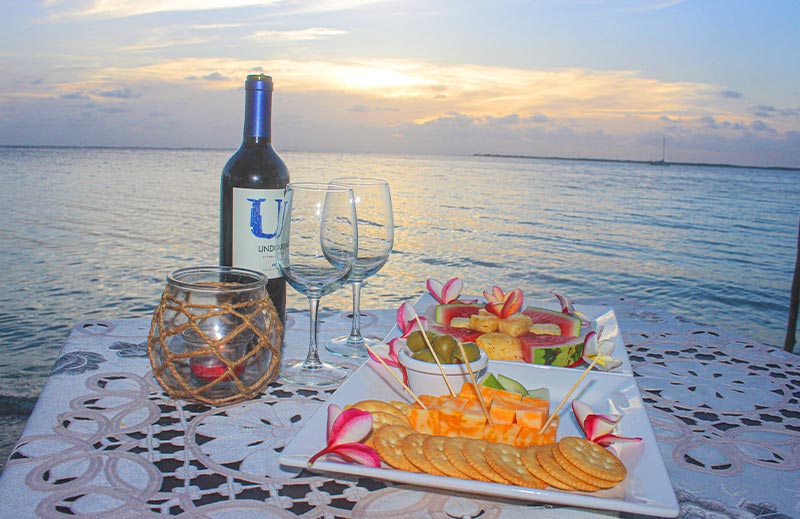 Enjoy stunning Caribbean sunset views on a private evening cruise with your sweetie – this is a perfect surprise and an amazing way to propose, celebrate an anniversary, or just enjoy each other's company.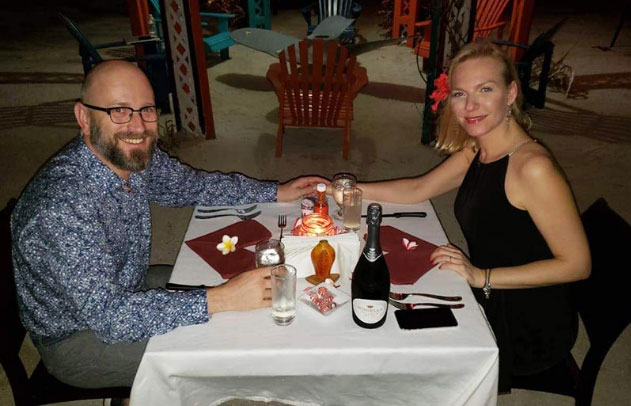 Enjoy a magical dinner under the stars while you create new memories with your sweetie. Whether in front of your Cabana with the sound of the waves gently lapping the shores, or near the water's edge on the western shoreline with tiki torches, this will be a night to remember and cherish for years to come.
"The entire staff is so genuine and kind! The food was authentic and delicious! The service was great and you feel like family by the time you leave! It was so easy to relax! It feels like you have the entire island to yourself! "