We offer some fabulous Belize food tours that you can add on to your package as a Pre- or Post- Tour with a mainland stay at The Bonefish Hotel in Dangriga. You can revel not only in the natural beauty of the island and reef, but also savor the bounty of the sea and the land.
Try your hand at chocolate making using organic cacao. Discover the history and recipes of the Afro-Caribbean culture of Dangriga and Hopkins. Learn about the value of corn as a staple crop and try some fabulous home-made panades or salbutes. Or, sample authentic dishes that define the Maya, Garifuna, Mestizo, and Creole people of southern Belize on one of our culinary tours.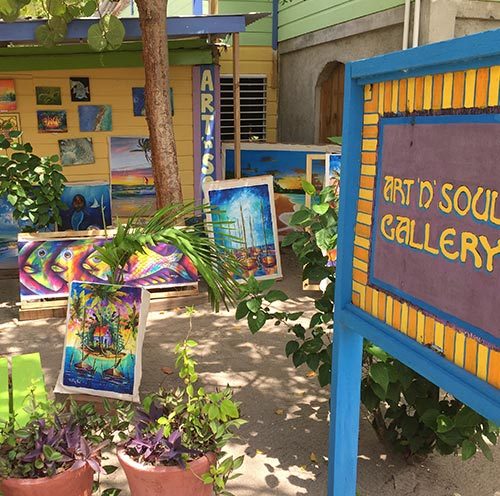 Day Trip to Placencia Village
Placencia is a small Creole fishing village at the tip of an 18 mile peninsula.
The famous Placencia Sidewalk, a boardwalk that runs along the beach, also known as the smallest street in the world, was traditionally used by fishermen to carry their fish in wheelbarrows to sell. Nowadays the sidewalk is lined with numerous art and gift shops, restaurants, bakeries, BBQ stands, gelato shops (Tutti Frutti is a must-try), cafes, and bars. But you can still see fisherman loading up their catch and bringing it to the fisherman's coop for the freshest in conch, lobster, grouper, snapper, crab and more.
The charm of the seaside community can be seen in the colorful buildings, beautiful white sand beach, smiling and friendly residents, lively beach bars, and the original families of Placencia still holding strong to their seafaring traditions.
We stop for lunch at Omar's (local seafood grill), a fisherman-owned Belizean restaurant (BYOB), followed by Rum Flight Tasting at Afrodite Cafe, where they handcraft their own line of local rums/ Then you have some time to explore the village on your own.On our return journey we take a stop at the hidden falls and swim in the clear water pool at the base nestled in the heart of Belize.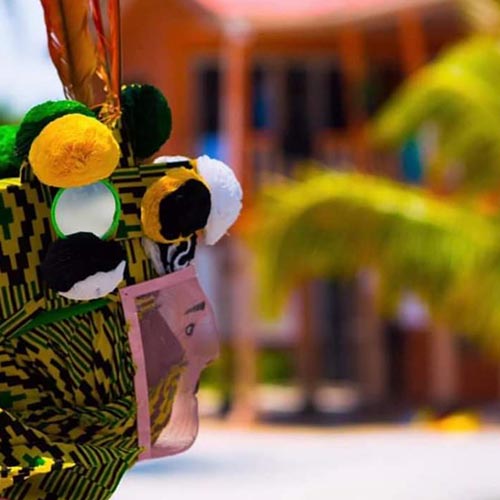 Get to know the Garifuna Journey and culture, view paintings, murals and thread art portraying all aspects of Belizean culture at a colonial era gallery. November 19th, Garifuna Settlement Day, is a national holiday in Belize and a great time to visit and explore the culture.
Following the visit at the gallery you will visit the quaint workshop of legendary drum-maker, Austin Rodriguez, who manually carves Garifuna drums from mahogany, cedar and mayflower wood. Practice some basic drum rhythms and learn about punta rock and punta history. You will have an introduction to the four major Garifuna rhythms: Jankunú, Punta, Hungu Hungu, Chumba.
Lunch is a traditional Garifuna delicacy of hudut, cooked on a fire hearth. Relax under shady coconut trees and listen to the sound of nature.
Then it's onto Marie's Sharp's Pepper Factory. Who would have thought that carrots could make such a wonderful impact on hot sauce? If you're remotely into hot sauce, you won't be disappointed to visit the place where Belize's best known export is made. Marie's Sharps is a household name in Belize and found on many dining tables and is now making its way around the world as an original Belizean specialty.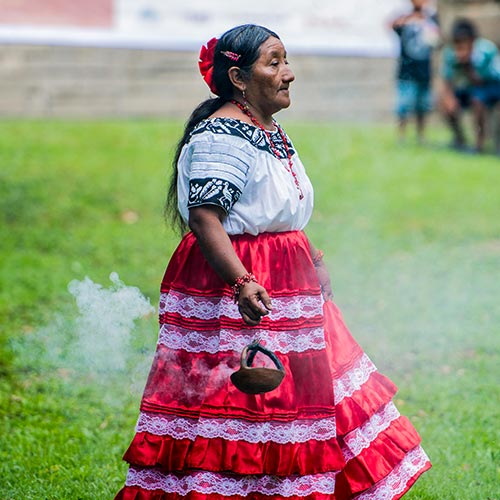 Maya And Garifuna Cultural & Culinary Tour
Garifuna Cultural Culinary Adventure and Maya Chocolate Making Tour Combo
Discover the deep history of two unique cultures, the Maya and the Garifuna on an adventure of the mind and of the taste buds. Our journey starts on the island by boat to Hopkins Village along the coast.
Join us on a culinary journey through time and discover the traditional cooking techniques and dishes of these two cultures as they have survived the centuries. Our cultural and cooking class is guaranteed to be highly educational, entertaining, interactive, and delicious.
Come journey with us through our historical stories. We are glad to share the tremendous cultural value of our coconut trees engaging you in the interactive process of coconut harvesting, husking, tasting, grating and milk extraction. Learn about the history of farming and fishing in the Garifuna communities and some of the tools to process and prepare traditional foods such as cassava. Learn about and sample a staple food for the Garifuna people, hudut which is fish in coconut broth and veggies with mashed plantain dumplings. Delicious and nutritious!
Our next stop is at Maya Center Village Cacao Factory Be with a master chocolate maker who offers two-hour farm-to-factory tours including a trip to the cacao plantation. The full process is explained right through to the finished bar of dark chocolate in this indigenous, grassroots, family-run business. Try your hand at making your own chocolate from some of the best quality beans in the world. Learn about the symbolism, meaning, value, and history of chocolate in the culture of Central America dating back thousands of years.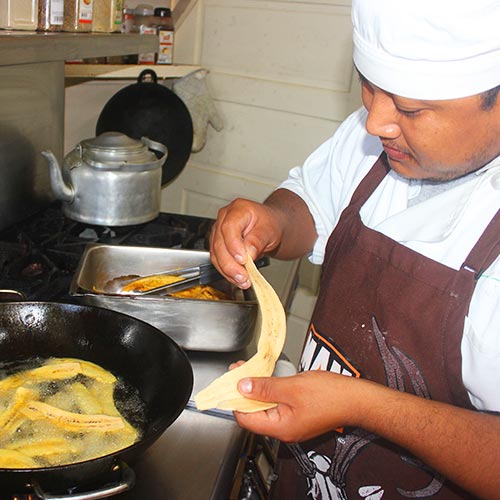 Belizean cuisine has gotten more and more attention on the international playing field of fine cuisine. It all starts with a base of fresh ingredients, local produce, and making meals from scratch. And the roots of Belizean cooking are in the various cultures which make this country so blessed with its ethnic diversity and traditions. Learn how to make a traditional corn dishes such as salbutes and panades or tamales in the Mestizo tradition, a steaming bowl of seafood chowder in the Creole tradition, or a Belizean staple, such as "Sunday Dinnah" coconut rice and beans with stewed chicken and potato salad. Or try your hand at baking fresh buns, fry jacks, tortillas, and creole bread in a personal baking lesson. The possibilities are endless. Ask out concierge to arrange a cooking lesson for you and see how Belizeans use their amazing variety of fresh seafood, meats, vegetables, and fruits to make healthy and hearty home-cooked meals and special ethnic dishes.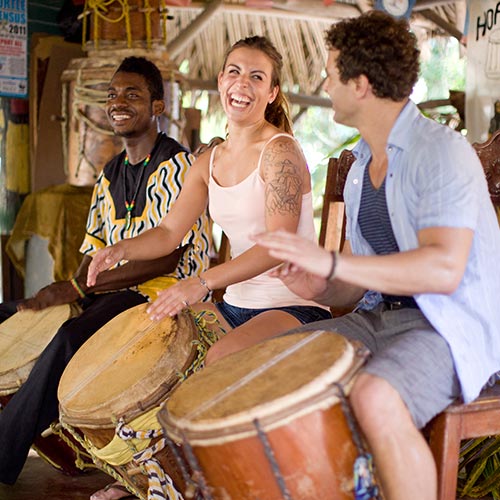 Day Trip to Hopkins Village
Hopkins Village has been touted the "friendliest village in Belize" and, alternatively, a "small drinking village with a big fishing problem". This village certainly harkens to the true Caribbean pace of life, with hammocks swaying in the breeze, the sound of drums and punta music in the air, skiffs being run up onto the beach after a fishing trip, and mangoes and coconuts dropping at every corner.
This village is a traditional Garifuna settlement, which is an Afro-Caribbean culture originating from slavery days when escaped African slaves intermarried with native Carib Indians from St. Vincent and then migrated to Belize during British colonial rule to build a new life for themselves. Granted amnesty from the British, they settled along the coast and brought with them their rich culture.
This unique African and Caribbean blended culture brings with it a deep history, traditional foods, dance, music, ceremonies involving death and the ancestors, and language, which belongs to the Arawakan group of languages. The culture has been designated an Intangible Cultural Heritage of Humanity by UNESCO.
Despite feeling the growing pains of accommodating, a surge of tourism and technology, the Garifuna people of Hopkins still maintain a pride in their traditions. We will learn more about the history of the village and its people as well as how to prepare a traditional stew, called hudut, made of coconut milk, mashed plantain dumplings, and fresh fish, which we will sample for lunch at a small Garifuna kitchen.
Guests can choose to lengthen the tour and add on a bioluminescent tour of Anderson Lagoon (additional fee) before heading back by boat to the island in time for evening dinner at the resort.
"Upon arrival you are immersed in local cuisines, culture and the friendliest resort staff."