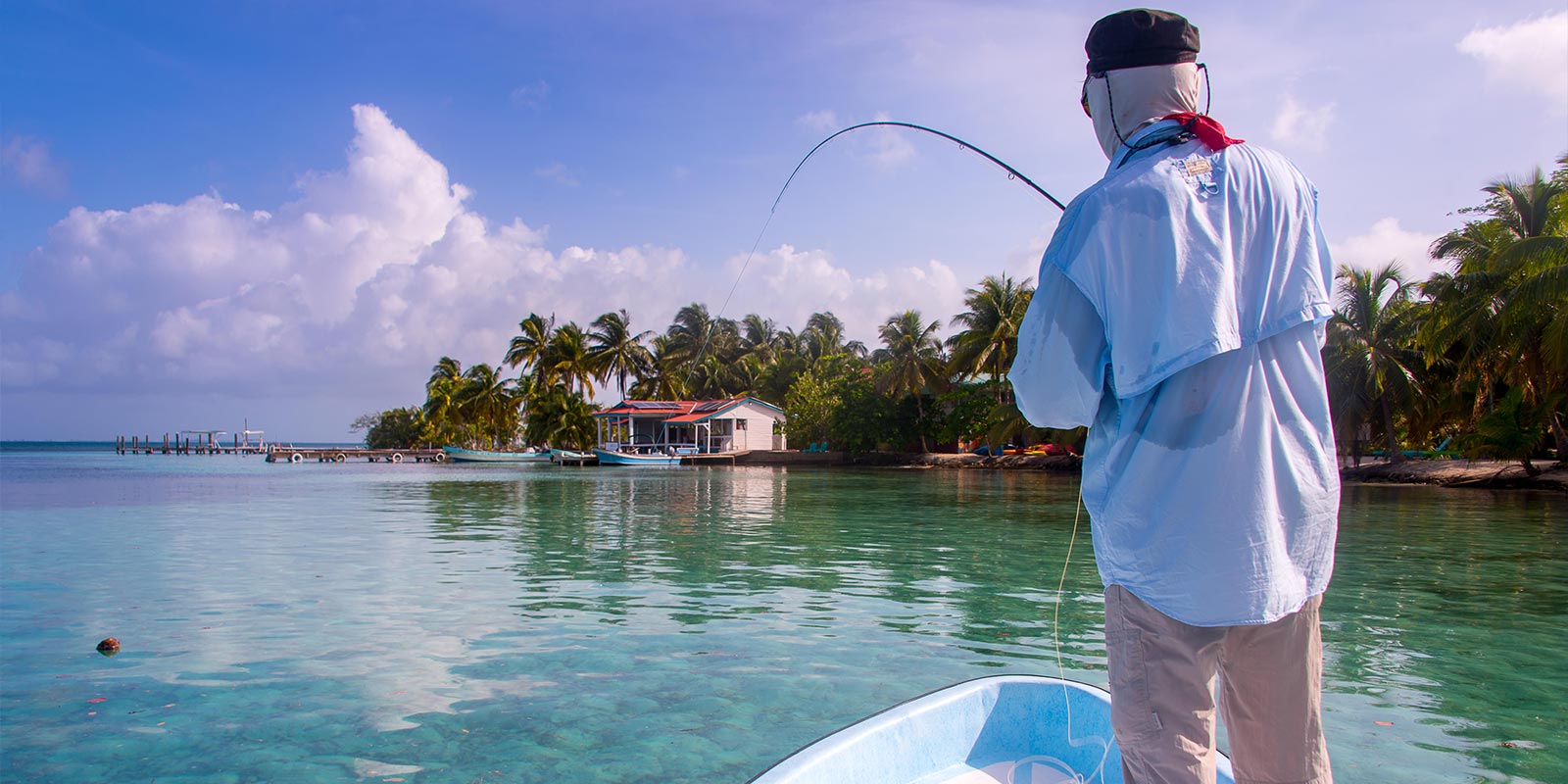 Fishing in Belize is exciting, relaxing, entertaining, rewarding, and good for the soul. This is arguably one the best all around locations for the diversity of fishing opportunities in the world. Belize is hands-down a premiere world class fishing destination.
At Blue Marlin Beach Resort, there are plenty of shots to try your hand at catching some of the numerous catch-and-release species (fly fishing and sport fishing) or do some blue water fishing (trolling, spinning, spearfishing, deep sea fishing). You might even bring home your dinner — a meaty grouper, tasty yellowtail snapper, meaty barracuda, scrumptious tuna, or fleshy king fish–to grill up at the resort. This is truly a from sea-to-table dining experience.
There are amazing fishing spots all along the inner and outer reef.  In the inner reef along coral patches and turtle grass beds, we can teach you about traditional handline fishing and catching sardine bait with a cast net in the mangroves. This is a hands-on, adrenaline-filled, full-or half-day adventure on the sea. The inner reefs are eager to please, offering up a rich selection of Mutton, Cubera, and Yellowtail Snappers, Groupers, Mackerels, Bonito, and much more. The outer reef offers exciting opportunities for the larger species such as Mahi Mahi and Blue Marlin.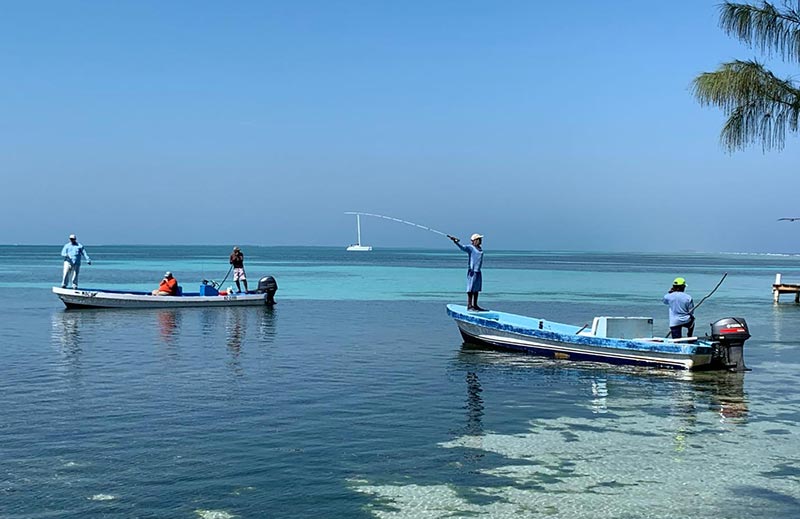 We provide all the equipment and gear, guides, fishing license, boats, and the best fishing spots. We give due respect to all the environmental laws including catch-and- release of protected species, diving for lobster and conch only when in season, and fishing only in mixed use zones, avoiding protected and "no take" zones. All you need to bring is your sense of adventure and your love of the chase and let us do the rest!
Fly fish with the Blue Marlin Resort and score an angler's ultimate dream – a "Grand Slam" – permit, tarpon, and bonefish all in one day! Flats teeming with permit are just five minutes from your room. Troll the channels for barracuda or king fish, or cast in the blue for wahoo and tuna. Tarpon can be found in the channel at Tobacco Caye and schools of bonefish can be seen gliding past our dock and over-the-water dining area. Belize and Blue Marlin Beach Resort should be on every angler's bucket list!
We are devoted to catching and eating sustainable seafood in Belize. We follow the regulations set out by the government to ensure that future generations can enjoy the bounty and beauty of the sea. All of our seafood at Charlie's Dining and Bar is supplied by local fishermen and caught by line or freediving– no gill nets or drag nets. And our guests learn about traditional and sustainable fishing techniques on our tours.
The first step is to comply with the Belize Fisheries Laws which include the following guidelines:
The first step is to comply with the Belize Fisheries Laws which include the following guidelines:
Complete Ban:
Coral
All Parrot Fish
Blue Tang
Surgeon Fish
Doctor Fish
Permit
Tarpon
Bone Fish
Marine Turtle (all species)
Whale & Nurse Sharks
All Marine Mammals
Crocodile
Diced Conch
Diced Lobster
Do Not Eat During Closed Seasons:
Conch (July 1 to Sept 30)
Lobster (February 15 to June 14)
Nassau Grouper (December 1 to March 31)
Wild Shrimp (July 14 – March 14)
Hickatee (May 1 to May 31)
Sea Cucumber (July 1-December 31)
West Indian Top Shell (January 1-September 30)
Sharks (August 1-October 31)
Eat Anytime Guilt-Free:
The lionfish is an invasive species to the Caribbean. It eats our commercial fish, has no natural predators here; the best control method is to kill and eat it! We offer
lionfish hunt dives
for a unique and eco-friendly spearfishing experience. It is healthy, delicious and be eaten whole or fillet. It tastes like grouper or hogfish. It has very venomous spines, but scissors easily remove them. For catching and cooking advice visit
eatdalion.bz
Complete Ban:
Coral
All Parrot Fish
Blue Tang
Surgeon Fish
Doctor Fish
Permit
Tarpon
Bone Fish
Marine Turtle (all species)
Whale & Nurse Sharks
All Marine Mammals
Crocodile
Diced Conch
Diced Lobster
Do Not Eat During Closed Seasons:
Conch (July 1 to Sept 30)
Lobster (February 15 to June 14)
Nassau Grouper (December 1 to March 31)
Wild Shrimp (July 14 – March 14)
Hickatee (May 1 to May 31)
Sea Cucumber (July 1-December 31)
West Indian Top Shell (January 1-September 30)
Sharks (August 1-October 31)
Eat Anytime Guilt-Free:
The lionfish is an invasive species to the Caribbean. It eats our commercial fish, has no natural predators here; the best control method is to kill and eat it! We offer lionfish hunt dives for a unique and eco-friendly spearfishing experience. It is healthy, delicious and be eaten whole or fillet. It tastes like grouper or hogfish. It has very venomous spines, but scissors easily remove them. For catching and cooking advice visit eatdalion.bz
Blue Marlin Fishing Tours
Blue Marlin Fishing Gallery
"The best part is the location right on edge of reef with excellent bone fishing off dock on west side, and quick access to deep sea fishing on east side. No need to waist a lot of time getting to fish, they're right off the island! We spend most of our vacation time fishing, and this is a spot we'll continue to come back to."