Blue Marlin Beach Resort is situated right in the middle of what we estimate to be the best permit fisheries and bonefish in the world with the bones hanging out directly off our docks.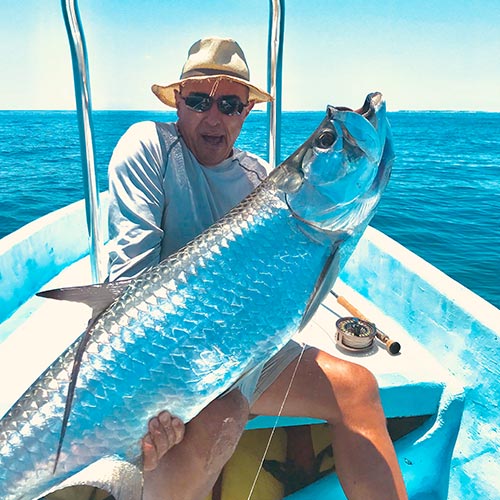 The flats extend both north and south of the South Water Caye with over 200 miles of coastline flats. Our location consistently delivers permits and bonefish. Bonefish are found in large school all along the lagoon side of the island, just feet from shore in the seagrass beds. Add tarpon to that for a Grand Slam. Or go for the extreme challenge and add snook for a Super Slam.
There are several good permit grounds to the north of South Water Caye, starting in the Sand Fly Range, as well as in the Blue Ground Range, which is located directly to the west. To the south, the countless saltwater permit flats are the finest in the world. Anglers get numerous shots while wading in the flats or right off the boat at the edge of the island.
The permit fishing in this area takes place on tidal flats in about 1-3 feet of water and guests will be casting to tailing permit in much the same way they have for tailing bonefish in other locations. Guests can see 25-40 or more tailing fish per day and most permit fishing is done by wading making this an angler's challenge and wonderland at the same time.
Migratory tarpon that run the reef are available at the channels off Tobacco Caye and South Water Caye, which are feeding zones. These are best visited in spring and early summer, starting in April.
We work with licensed and experienced fly-fishing guides from Hopkins, Dangriga and Placencia.
This tour is included in these Packages:
"Highly recommended destination for opportunity to catch permit on fly. We had multiple shots at the fish during our six days of fishing. We caught permit, tarpon and a few small bonefish...best fishing guide I have fished with in four decades of fly fishing.."