Belize Blue Hole Diving Tour
Do you want to experience the best of Belize and discover the off-the-beaten path activities that make our country so special?
Our Belize island resort is the perfect base of operation for scuba dive exploration. The barrier reef spans over 190 miles and there are also several outlying atolls that offer spectacular diving, snorkeling and fishing opportunities. The possibilities are endless.
If you are on one of our all inclusive Belize adventure packages, you can upgrade to add on a specialty tour.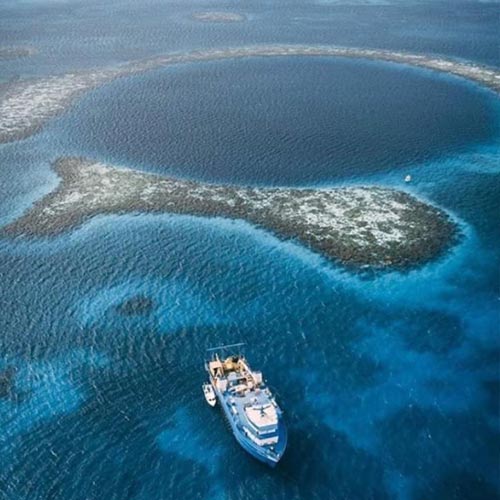 The Blue Hole is an oceanic sinkhole that has intrigued and captured the imagination of explorers for centuries. First documented by the Spanish colonialists, the Blue Hole was later visited by Charles Darwin in the 1830s, who deemed it the most "remarkable reef in the Caribbean".
Later, in the 1970s, the renowned explorer and marine biologist Jacques Cousteau, put the Blue Hole on the world map with his visit to Belize and underwater exploration of the area. If you are an experienced diver, come see why the Blue Hole has been ranked as one of the top 10 dive sites in the world. Come experience what these first revolutionary explorers discovered here– pristine natural beauty and amazing geology. In 2012, Discovery Channel ranked the Great Blue Hole as the #1 Amazing Place on the Planet.
A nearly perfectly circular body of water, the Belize Blue Hole is surrounded by the Lighthouse Reef Atoll. Divers can use the shallow waters of the atoll's lagoon to begin their descent to the now-flooded cave that contains stalactites and stalagmites up to 40 feet in length.
Shallow patches of colorful coral give way to deeper water descending nearly 400 feet to the sea floor. There are numerous flooded caves and this vertical descent brings you to a surreal environment with an impressive array of underwater formations and wildlife, including schools of hammerhead sharks. The most recent exploration of this mysterious place was done by Charles Branson and Fabien Cousteau in an aquatica submarine. Our private island Belize resort is an ideal jumping off point for the dive of a lifetime!  This is not a tour for novice divers. Divers must be sufficiently experienced (minimum 24 dives) and must have recently been diving as well.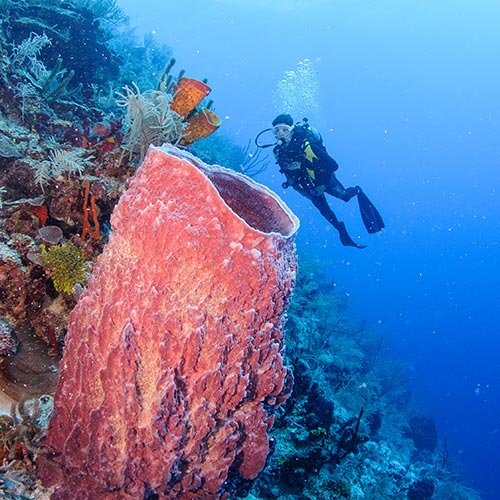 Glover's Atoll is located 28 miles off the coast of Belize and is a string of sandy, palm- fringed islands and reefs surrounding a pristine lagoon. It was named after the English pirate, John Glover, who used this area as a base for his plunderings in the 1600s. The area was designated a marine reserve in 1993 and is a UNESCO World Heritage Site.
Glover's Reef Marine Reserve is approximately 86,653 acres and encompasses the marine portion of the oval-shaped Glover's Reef Atoll. The Atoll is about 20 miles long and 7 miles wide and is considered as the best developed biologically and has the greatest diversity of reef types (Dahl et. Al.1974).
Glover's Atoll deep lagoon system is dotted with about 850 patch reefs and pinnacles that rise to the surface. It is a critical nursery and feeding ground for many species of sharks, rays, and turtles along with hundred of reef fish species, including a spawning ground for the increasingly rare Nassau Grouper.
This is a diver's delight and we offer two-tank day trips to Glover's Reef for a diving adventure of a lifetime. We also offer snorkeling and fishing trips. The atoll is home to several Belize private islands, resorts, and research stations, including Wildlife Conservation Society (WCS).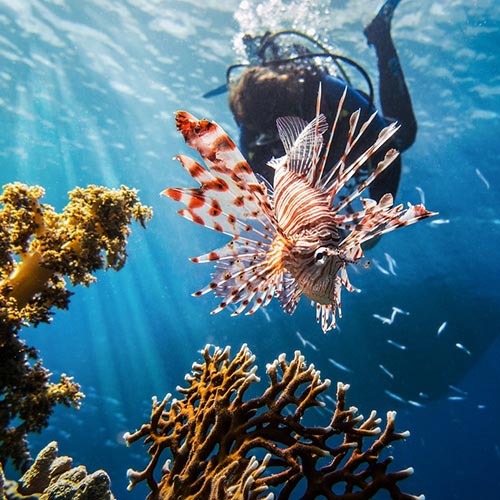 Lionfish is an invasive species that is threatening the local populations of reef fish. Lionfish are predatory and feed on juvenile native fish at mind-boggling rates. They can deplete local populations in just a matter of months. The Government of Belize, along with private dive shops and conservation organizations, is battling this problem by allowing lionfish hunts in a comprehensive lionfish management plan. Visitors are encouraged to remove lionfish from the reef with special sling spears.
Participation on activity is subject to guide's judgement on the ability level of the diver with handling Hawaiian sling and potentially dangerous fish.
"On our dives we saw a huge variety of fish, lobsters, 6'-8' eagle rays, turtles, sharks, and so many different types of coral. Richard was our dive master. This is his territory, so he knows the area like the back of his hand. He was smart with recognizing dive sites based off currents, lighting, and types of sea life. He gave us the best dive experience yet! "