Whether you are just trying on a snorkel and mask for the first time or whether you are an experienced underwater adventurer, there is something for everyone in South Water Caye Marine Reserve. Our licensed snorkel guides and boat captains will take you to the best spots on the reef to see a diversity of marine life both under the sea and in the mangrove islands dotting the marine reserve. Turtles, rays, manatees, numerous sea birds, aquatic plant life including mangrove nurseries, a plethora of corals, a dazzling array of fish, and much more await you on your snorkelling and island adventures.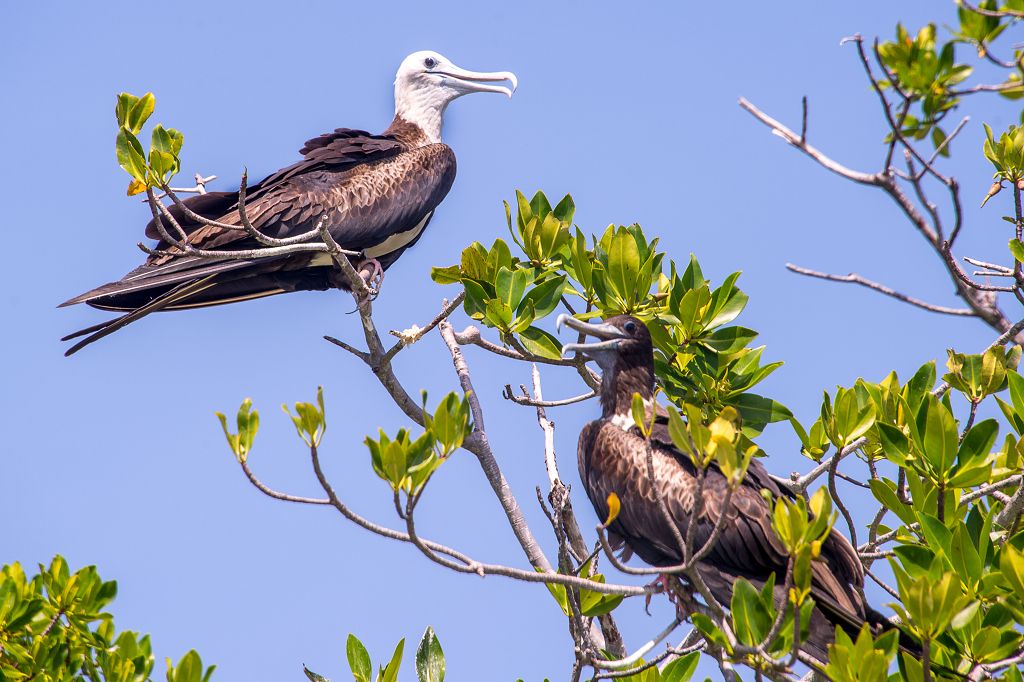 Marine Reserve Discovery Tour (Island Adventure)
This half day tour will introduce you to the diversity and natural history of our beloved South Water Caye Marine Reserve. There are groups of small islands within the reserve, each with their own unique habitats.
Visit Bird Island, or Man O' War Caye, a nesting site for osprey, frigate birds, brown footed boobies, and various other marine bird species. Search for manatees in the shallow seagrass beds and discover the importance of mangroves for the health of the reef and as marine nurseries. Learn about the history of the islands from pirate days, the daily life on a fisherman's camps, Caribbean ghost stories, and the effect of hurricanes on the geography.
Our neighboring island, Carrie Bow Caye – Smithsonian Research Station, is dedicated to studying coral reef ecology and rehabilitation. Learn about the plethora of marine life and end your tour with a snorkel in the translucent Caribbean waters, where fish and coral create a colorful and diverse underwater world.
This tour is included in these Packages:
There are countless opportunities to be thrilled and amazed at the natural beauty and diversity of our marine habitats. Blue Marlin Resort is one of Belize's best snorkeling and diving resorts located just a few minutes away from the Barrier Reef in the middle of the South Water Caye Marine Reserve, with rich biodiversity and ecosystems. .
Let us take you to the best snorkeling sites in Belize. Both the spur and groove fore reef formations of the Belize Barrier Reef and the numerous patch reefs of the lagoon display vibrant, healthy coral colonies. In addition to the pristine coral formations, you will see a large variety of fish and invertebrates. Blue Marlin Beach Resort visits snorkel sites that demonstrate healthy diversity to satisfy the experienced snorkeler, yet are quite safe for the novice. We are in a truly fantastic environment surrounded by warm shallow water teeming with life!
You will have a chance at seeing many colorful corals, an abundance of reef fish (including brilliant parrot-fish, regal angelfish, a variety of snappers, and grunts) moray eels, lobsters and conch, anemones, nurse sharks, and several species of sea turtles, including loggerhead and hawksbill. South Water Caye is a known nesting sight for sea turtles.  We might even get lucky and have a pod of dolphins follow the boat back home to the resort. Trained staff accompanies all snorkel tours. 
Includes: Snorkel gear, guide, and boat transportation; tour departs from Blue Marlin's dock.
This tour is included in these Packages:
"The boat crew and snorkel guides were outstanding, taking us to amazing patch reefs twice a day and pointing out unique animals while in the water. They always made sure we were safe and having fun.The staff and crew were very knowledgeable and gladly answered any questions I asked, trying to be as helpful as possible."