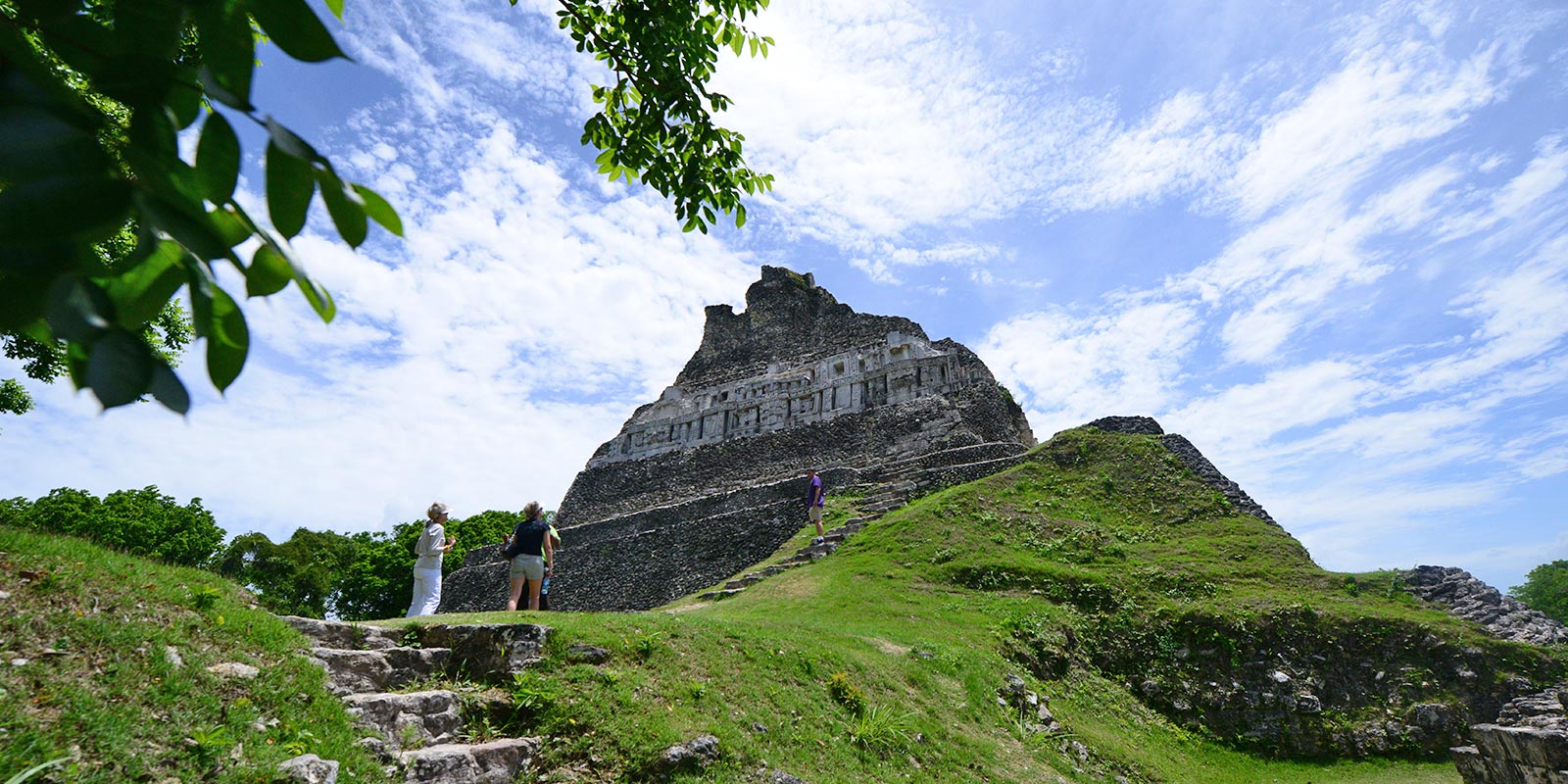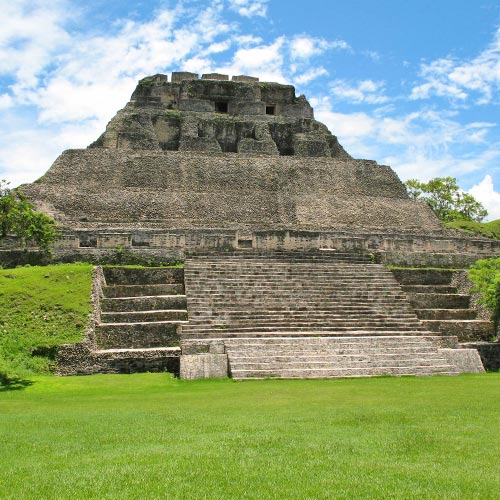 The ancient Maya city of Xunantunich, meaning the "Stone Maiden", dates back to the Pre- and Post-Classic periods. The "Stone Woman" refers to the ghost of a woman claimed by several people to inhabit the site in the 1890s. She is dressed completely in white, and has fire-red glowing eyes. She generally appears in front of the temple of "El Castillo", ascends the stone stairs, and disappears into a stone wall. (from Wikipedia)
This spectacular archaeological site is just minutes from the bustling town of San Ignacio and minutes from the Guatemalan border. The site was first discovered in the 1800s and hosts of archaeologists have excavated over the years to uncover the layers of history and culture hidden below the dense rainforest.
Once overgrown by the jungle, the site has now been cleared and the main plazas and temples restored. This is a magnificent and significant site in Maya history and you can climb to the top of the aged temples that are still standing after thousands of years. The ancient Maya were a complex civilization with a refined system of astronomy, their own complex calendar, writing in the form of hieroglyphics, and a complicated social caste system. The site served as a Maya civic ceremonial center and was inhabited by over 200,000 people.
There are two ways to access the western part of the country, the Cayo district.
One is a private plane charter from Dangriga and flightseeing tour to Maya Flats airstrip where you will be met by a licensed guide to take you to the site by air conditioned vehicle with a stop for lunch at a local restaurant and possibly a quick tour of the town and farmer's market. The flight is about 45 minutes and is in a Cesna single prop airplane. Please inquire about pricing.
The other option is driving all the way from Dangriga with our in-house guide. This is a scenic drive with opportunity to stop at the inland Blue Hole, a lovely freshwater cenote, along the way. The drive is about 2.5 hours and takes you through the Hummingbird Highway, lined with orange orchards, jungle, and small villages and the Western Highway, the heart of the Mennonite farming traditions and home to many cattle ranches and farms.
"We had a spectacular day seeing the countryside, drove to an amazing set of ruins near the Guatemala border. Julissa's expert knowledge of the country along with tons of fun facts and road side stops made a rainy day a great one! The ruins are great, almost only ones there, and great view from the top."