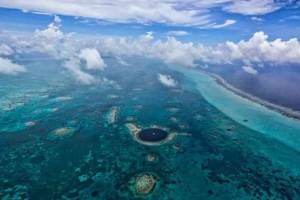 By Jad Davenport
I'm 130 feet down in the throat of Belize's most famous dive site-the Blue Hole-when a feeling of childhood déjà vu creeps into my head. Maybe it's the two-story-tall stalactites hanging from the grotto walls like King Kong's fangs, maybe it's the ripped bull sharks that always seem to appear in the green fog behind me like ghostly gatekeepers. Or maybe it's the fact that the ancient Maya believed caves like this were the portals to their underworld, Xibalba.
I know this place. It is torn from the pages of my favorite childhood story about naughty Max, who, when sent to his room, conjured up a surreal world where bedroom walls melted into vine-draped jungles and a stony moon glowed on fearsome-looking beasts.
See also: Snorkeling in Belize
I'm five days into a weeklong journey along the length of this former British colony wedged between Guatemala and Mexico, and it hasn't taken me long to realize that it's not just the Blue Hole that seems otherworldly. The whole country is the Yucatan on adrenaline-a natural theme park that's a little weirder and a lot wilder than anywhere else in these parts. It's a country where you can stalk gentle sharks the size of trawlers, dive South Pacific-like atolls in the Caribbean and swim deep into the Cave of the Crystal Maiden to uncover a chilling mystery more out of a gothic horror novel than a modern-day fairy tale.
Belize, I decide, watching the silver tinsel of bubbles pour out of the jaws of Xibalba and glitter to the surface like a reverse waterfall, is Where the Wild Things Are.
Stalking Giants
The evening I arrive in Placencia, a barefoot beach town in southern Belize, an Apocalypse Now sunset has ignited cloud castles in the sky-appropriate since director Francis Ford Coppola owns a Balinese-inspired resort on the edge of town.
I wander along a planked sidewalk and pass fishing shacks on stilts, hurricane shutters drawn, next to rebar quills poking out of time-share villa foundations. At the pier at the end of the road, sunburned Texan tourists in $200 Orvis fly-fishing vests unload coolers of empty Belikin beer from their boats, while local men hammer wayward nails back into fishing pangas turtled under coconut palms. Nearby, a European couple bickers over how to set up their North Face dome tent on the brown-sugar beach. The sidewalk winds past acupuncture clinics and Internet cafés, and a colorful hand-painted Creole sign admonishes potential litterbugs: "Sho Yur Luv Fo' Di Bare Foot."
See also: Scuba Diving in Belize
Placencia's mellow vibe is lost on me two days later as I roll into the swell 25 miles offshore at the Gladden Spit Marine Reserve. I'm hot and cranky, my neck is covered with red pica-pica welts, and I'm well into my second unsuccessful day of whale shark diving.
Read more: http://www.scubadiving.com/travel/caribbean-atlantic/mysteries-underworld