It is considered the largest marine reserve in the Stann Creek District of Belize and covers 47,702 hectares of mangrove and coastal ecosystems. It also includes the crown reserve of Man of War Caye which is a nesting site for the brown booby and majestic frigate bird. Its marine reserve is also zoned to protect fishing, nurseries and inimitable habitats and is a mecca for snorkeling, fishing, diving and educational activities.
Yes, I am talking about South Water Caye!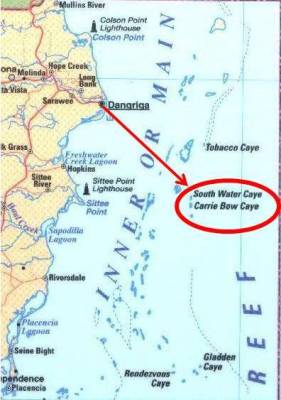 South Water Caye is a 15 acre gem in the southern part of the country and is one of Belize's sandy beauties according to Fodor's Travel. The Caye is approximately 14 miles off the coast of Dangriga and Hopkins and is the perfect tropical island getaway.
This year, Island's Magazine voted South Water Caye for having the best beach in Belize. And you bet, the beaches are gorgeous!
It is also a treasure a for sea and underwater enthusiasts as spectacular scuba diving, snorkel and salt-water fishing is literally at your doorsteps and the marine Reserve is home to sea grass beds, patch reefs, sand bores, mangrove habitat and over a dozen major cayes and many smaller islets.
If you visit, Blue Marlin Beach Resort is the best beach resort to stay in South Water Caye. The Resort features picturesque 180-degree views of the Caribbean Sea and offers guests waterfront restaurant and bar, underwater adventures, salt-water fishing, complimentary kayaks and water tubes, immaculate sandy grounds, and air-conditioned cottages, rooms and igloos with verandahs and private bathrooms.