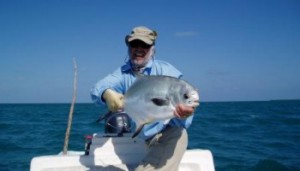 The waters surrounding Belize is a mecca for those interested in fishing. It is abound with an ample variety of salt water fishing and our beautiful island (South Water Caye) boasts one of the best destination for flat, bone, permit and tarpon fishing.
At Blue Marlin Resort, one can achieve an anglers' ultimate dream- a "Grand Slam" of bonefish, tarpon and permit. You can fish for bonefish from the flats just five minutes away from your cabins; or simply go outside the reef into the deep water for tuna and wahoo or troll the reef for barracuda or king fish.
Belize Bone fishing – Bone fish can normally be caught in the shallows from November to March. The island's front is as close as 120 feet to Belize's Great Barrier Reef, behind the island spreads a large lagoon full of coral reefs and sea grass beds home to huge schools of bone fish spreading out over the lagoon. Trailing these large schools of bonefish will provide hours of fly-rod actin just a few steps away from your room.
Permit and Tarpon Fishing in Belize – Our experienced guides can take you to the neighboring flats in the mangrove and by the Sittee River mouth for Snook, Permit and Tarpon Fishing. Tarpon is abundant from February through August in the many Belize Rivers along the coast. Permit fishing is available throughout the year.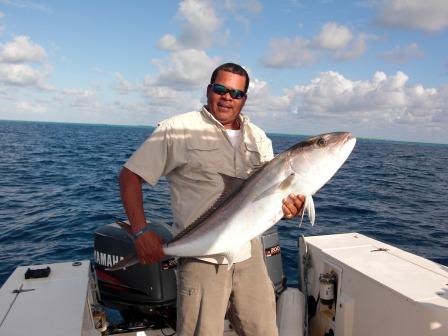 Belize Fly Fishing and Deep Sea Fishing – Blue Marlin Resort is a prime Fly Fishing location with over 20 years of experience, excellent fishing guides and a superior service for serious Anglers. Deep-sea fishing for big game fish is also a favorite at the Lodge. In fact, the name came from a blue marlin caught right in front of the island by the lodge owners before the lodge was even operational. Besides blue marlin, there are many other oceanic species that can be caught right off the island, including yellowfin and blackfin tuna, mackerel, bonito, wahoo, white marlin and sailfish. Most of these oceanic species can be caught year round at the Blue Marlin Resort.
Return to Belize Hot Dive Blog