Belize Scuba Diving Certification
Have you always wondered what it's like to be able to breathe underwater and discover another world?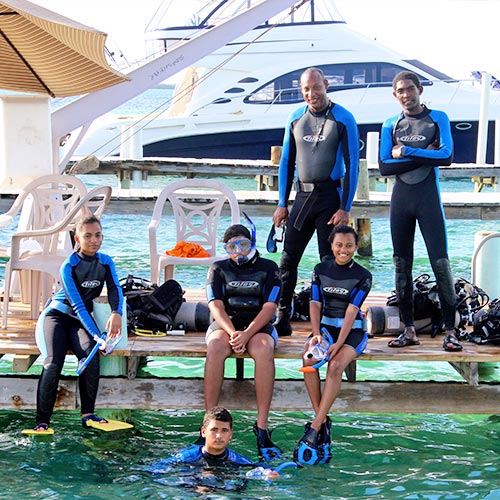 PADI Discover Scuba Diving is the perfect quick intro into breathing underwater and your first exposure to the equipment and theory of SCUBA diving. If you want to try scuba diving, but aren't quite ready to plunge into a certification course, Discover Scuba is the best option for you. Our instructor will guide you every step of the way– from familiarizing yourself with scuba equipment to the first time in shallow water right in the Caribbean Sea off of our dock. Discover Scuba is a quick and easy introduction to what it takes to explore the underwater world and might open the door to a full certification course which would allow you to dive anywhere in the world.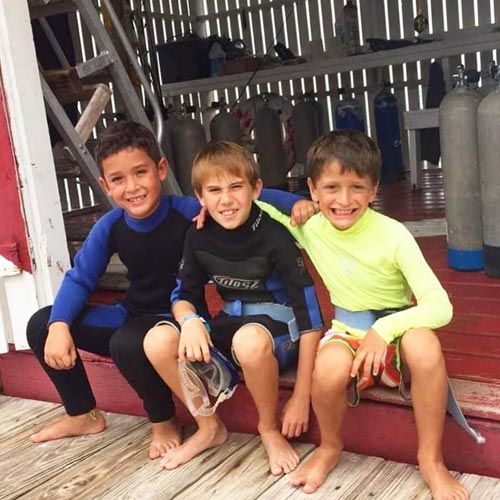 Bubblemaker gives children as young as 8 the opportunity to use scuba gear (mask, fins, tank, BCD with low-pressure inflator, regulator, and submersible pressure gauge) in a confined-water environment and, literally, make bubbles. The water should be no deeper than six feet (2 meters). We do our Bubblemaker course right off the Blue Marlin dock in the warm, clear Caribbean Sea. We require your child to be comfortable in the water before beginning, although they don't need any prior scuba exposure to participate in the class.
How about a Bubblemaker birthday party? We can have up to 6 students per instructor. What better way to introduce your child to a healthy, productive, exciting hobby that will last a lifetime? Let us teach your child how to dive and introduce him or her to the amazing world of Nemo, instilling in them a lifelong love and respect for the sea.
The course is approximately an hour long and, after completing certain skills sets, your child will receive a certificate of completion and card.
Open Water Dive Certification
If you've always wanted to take scuba diving lessons, experience unparalleled adventure and see the world beneath the waves, this is where it starts. Get your scuba diving certification with the PADI Open Water Diver course – the world's most popular and widely recognized scuba course. Blue Marlin Beach Resort offers practical and academic coursework to complete diver certification. We do recommend that you finish the "books" portion of your studies online
https://www.padi.com/padi-elearning
prior to your practical course of training here in Belize. Our certified dive instructor will be with you every step of the way. To enroll in a PADI Open Water Diver course (or Junior Open Water Diver course), you must be 10 years old or older. You need adequate swimming skills and need to be in good physical health. No prior experience with scuba diving is required.
The PADI Open Water Diver course consists of three main phases:
Knowledge Development ( online, independent study, or in a classroom) to understand the basic principles of scuba diving
Confined Water Dives to learn basic scuba skills
Open Water Dives to use your skills and explore
In the PADI Open Water Diver course, you learn to use
basic scuba gear
, including a mask, fins, scuba regulator, buoyancy control device and a tank. It is recommended that in order to make the most out of your vacation time you prepare adequately so that the practical theory is covered by the time you start your diving here with us. You can start learning with PADI's home-study materials –
Open Water Diver
(available on iOS, Android and via Web Viewer) or the
Open Water Diver Manual
and
Open Water Diver Video
(a book and DVD package).
Pick the course level that best suite your needs:
Open Water Diver
Open Water Diver Referral (With Confined Dives)
Open Water Diver Referral (Dives Only)
We also offer Advanced Open Water (2.5 days course with 5 dives to maximum 130 feet depth) and Open Water Refresher (if your last dive was 2 years or more ago.)
"The diving was spectacular, and then I could be back in time for a great lunch with the family at the resort. My daughter did a resort dive course (one on one) and went on two dives with us."