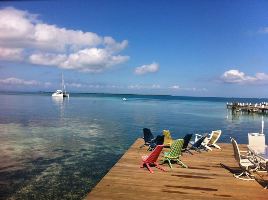 What draws thousands of visitors every year to this small Caribbean/Central American destination? We suggest plenty of reasons you might want to visit Belize, although once you have visited you may be able to think of many more. Come stay with us here on Southwater Caye at the Blue Marlin!
1. A touch of luxury: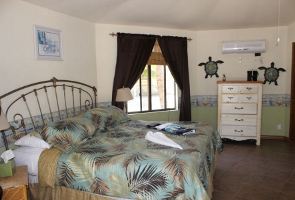 At Blue Marlin we are in the heart of nature with pristine coral reef and white sand beach at our doorstep, but not lacking of modern conveniences. Our comfortable rooms offer air conditioning, warm showers, flat screen TVs, and fine linens. Offering a host of water sports in the warm sea, the outdoor life beckons at Blue Marlin Beach Resort. We also have an onsite restaurant, bar, water sports amenities,and entertainment, making this a truly relaxing holiday in paradise.
2. Island hopping: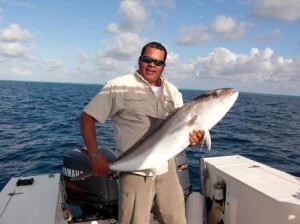 If you think staying on a small island might give you cabin-fever, think again. There are a lot of surrounding islands in our Southwater Caye marine reserve where you can explore the beautiful barrier reef, offering opportunities for fishing, diving, and snorkeling.
3. Winter sunshine: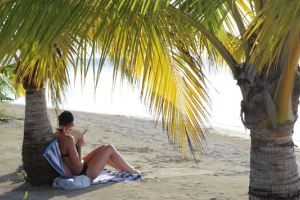 While much of the world shivers in the winter, sunny days continue much the same all year round Belize. It is a gorgeous destination at almost any time of year, with the odd chance of a tropical storm in late summer. Temperatures average around 24-29° C (75-85°F) all year round with occasional short but heavy afternoon downpours.
4. Ideal for weddings, honeymoons and anniversaries: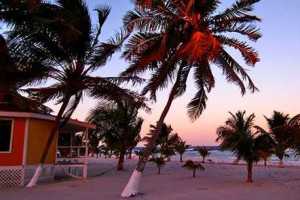 The weather is an important factor for your special day, and Belize offers the best chance of sunny skies. Destination weddings are
popular as they combine a wedding and honeymoon in one and are ideal for those wanting a small wedding on a limited budget. Those looking for somewhere quiet and romantic to spend their honeymoon or anniversary will find the Blue Marlin Beach Resort offers relaxing days and romantic evenings dining beneath the stars. Wander along the beach hand-in-hand, stargaze from the deck, enjoy a nap in the evening in a hammock, take trips to local attractions or enjoy a couples massage as a special treat.
5. Friendly locals:
Visitors are warmly welcomed by the islanders wherever they choose to stay. The mixture of cultures and national identities from the past has given Belize its own individual character. Consider a "Homevisit" in Toledo District with a local Maya family or experience local Garifuna drummers. These cultural opportunities provide employment for the localss and a more personal local experience for visitors.
6. Food: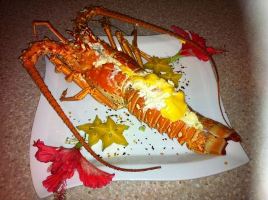 The Caribbean has a distinctive cuisine with each culture developing its own specialities. Chicken, fish fries and seafood are the
mainstays, along with delicious tropical fruits such as pineapples, papayas and mangoes. There are hundreds of different bananas to try and Belze is is known for its spices and herbs. With a blend of Caribbean and Latin American flavors Belizean cooking is fresh and unique. Belizean barbeque is some of the best in the world, seasoned and marinaded with a base of recado spice which gives the chicken a delicious flavor before it is barbecued, roasted or grilled.
7. Beaches and water sports: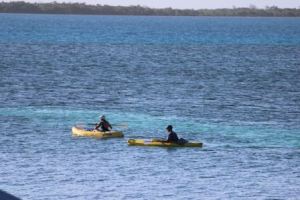 One of the main attractions South water is the white sandy beaches lapped by gentle azure waters. Relax and work on your suntan
or enjoy windsurfing, water skiing, sailing, and fishing. The water is ideal for snorkeling and diving to see the marine wildlife, especially off the coast of Belize. Dolphin trips, whale watching, turtle spotting and picnic cruises are a great way to enjoy this beautiful area.
8. Wildlife:
Belize is with exotic birds and wildlife including monkeys, parrots and toucans. Even if you do not see them in the rainforest, you will certainly hear them calling in the treetops. There are many opportunities to take an eco-tour into the rainforest or go on a bird-spotting expedition. Much of Belize is made up of protected national parks.
9. Unique attractions:
The ATM ancient Mayan ceremonial cave. 1,000 foot waterfalls. Blue Hole diving spot. World Heritage Sites and Culture. These are all unique and all here in Belize!
10. Music: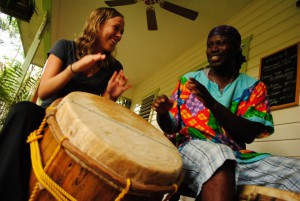 Belize has a growing musical culture, with punta rock, traditional paranda, soca and carnival, and the beats of reggae. Come dance to the tropical rhythms and enjoy a cold Belikin beer on our deck!
There are plenty more things to enjoy Belize and Blue Marlin Beach Resort– perhaps you would like to share your own favourite ideas with us. reservations@bluemarlinbeachresort.com
Other Belize Blogs